Everyone knows about Dorthy and the cyclone. Being whisked away from the gray Kansas she knew and loved to the unknown and mysterious beauty of the land of Oz is just the beginning of the story. Our second activity, therefore, for the Wonderful Wizard of Oz is using this tornado tutorial and lesson plan for making your tornado.
Tornado Over Kansas Art Study: John Stuart Curry
You can do an art study on John Stuart Curry's famous Tornado Over Kansas painting. For a child that may not live where tornadoes occur, the image vividly describes just what Dorthy experienced.
Begin by reading a

biography on John Stuart Curry

to your child/children. Or read a fabulous book about him. I recommend:

John Steuart Curry: Inventing the Middle West.
Discuss the questions in italics with your students while studying the painting: Tornado Over Kansas by John Stuart Curry

:
How does this painting make you feel? ( Be sensitive that some kids my feel scared. So just emphasize God's protection over all things and that sometimes art is a good way to express our feelings…especially difficult ones.) Say, "Have you ever drew about something that upset you or made you feel scared worried or anxious? Perhaps that is why Mr. Curry made this painting."
What colors are used that may create these feelings? dark colors, grays, black for the tornado
This painting was inspired by Curry's memories in his youth. What might have he experienced then? a tornado
What type of things do you see in the painting? dog, chicken, cat, barn, other animals in the distance
Where do you think this takes place? on a Kansas farm
What is happening in the painting? A tornado is coming and the family seeks shelter in the storm cellar.
Drawing Conclusions For Older Students:
Where is everyone in the family looking? Toward the house, not the tornado
Why do you think they are looking there? Perhaps they are waiting for another family member to follow or they are wondering what will happen to their house.
Do you know what the water barrel under the gutter is for? Kansas can be very dry. It is for collecting rain water for later, to water animals and crops.
Optional: Look at these other paintings:Sanctuary and Baptism in Kansas
Art Skill Practice for Tornado Art Tutorial
I'm a firm believer in not asking kids to do a project which requires a skill which they have never done before. So I like to give them little practice exercises for whatever skill the project may require. For this tornado project, I created these Geometry in Art : Tornado Tutorial Practice Worksheets to teach them how to draw a tornado using an ellipse. It's simple and easy.
Kansas Tornado Pastel Art Tutorial
This project is an adaptation from this Tornado Art Tutorial   from Tricia @ www.hodgepodge.me which inspired this lesson. We enjoy using her Simple Start in Chalk Pastels tutorials throughout the year.
Media: Pastels and Charcoals
Vocabulary: Ellipse, Blending, Fixative, Pastels, Charcoals
You will need:
White heavy duty paper 9×12

Hair Spray- Fixative

Wet wipes for hands and Clorox wipes for tables
Now follow these instructions:
1. On the white paper start by drawing a line for the horizon. Use a dark green pastel. Fill in everything below the line with dark green and blend.
2. Next add light green blobs for the bushes and trees in the background. They will be lighter and above the dark green land. Use circular motions. Then do some blending.
3. Add purple, gray, or blue for the dark clouds in the sky. Make this a funnel cloud shape. Use circles and swirls with the side of the pastel. Now add the main tornado with gray or black charcoals.
It will be in the background much like Curry's painting. You can use some browns and experiment with other colors too! Blend where needed.
4. Spray fixative (hair spray) on finished project to minimize smudging.
5. Clean Up
If you like this project you'll love a lot more of them from Southern Hodgepodge. Now you can get all three Chalk Pastel eBooks for one special price! Read my full review here and see why I like to use Tricia's tutorials throughout the school year.
 Extend the Lesson to Tornado Science
You might want to spend more than a day on the tornado study by adding a weather unit and science angle. For something fun and hands on for science I found a great tutorial on creating your own tornado in a bottle @ KC Edventures. It also recommends 3 great books about tornadoes.
Hop around and visit other terrific topics Starting Oct. 14th and:
Also Linked here: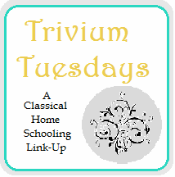 [ Return to Lesson by Artist Index ]